Right-Angle Trailer Hitch Receiver Lock, 5/8″ Diameter Pin Lock
Product Detail
Product Tags
[Compatible with Most Hitches] Our 5/8" diameter receiver lock pin fits 2" or 2-1/2" hitch receiver with 5/8" diameter holes. It is compatible with class III, IV, V hitches. It can be used for tow ropes of trailers, trucks, cars and boats.
[Right-angle Swivel Head] Designed with rules of ergonomics, our trailer receiver lock can be easily operated with 1/4-turn lock activation. And its right-angle swivel head can rotate 360 degrees when it is twisted.
[Weather Resistance] The key slot cover equipped with our trailer hitch lock with weather resistance material helps to keep the keyhole away from moisture and dust. The dustproof and waterproof lock pin is more durable.
[Copper Keys and Rubber O-Rings] The keys are made of copper. They are all covered with non-slip protective. The keys are well matched with fit our upgraded zinc alloy lock core, which is more solid and stronger. And 6 rubber O-rings are provided in the set. The rubber rings help to prevent rattling noise.
[Higher Security and Theft Deterrence] The trailer hitch lock pin can enhance the security of your vehicles. It will surely protect your trailer from theft when it is used to tow your trailer.
Our trailer hitch lock has higher security and theft deterrence to protect your trailer and towing equipment.
The right-angle trailer lock 5/8 inch in diameter, fits hitch receiver spanning from 2 inch or 2-1/2 inch, suitable for class III, IV, V hitches.
The whole trailer hitch lock kit is made of high quality material:
• The trailer receiver lock pin made of high-strength steel is strong and not easy to bend.
• With the 360 degree rotation head the key way can easily lock access.
• The rubber snap-on key slot cap keeps the keyhole away from moisture and dust.
• The keys are made of copper and has a non-slip protective cover. Unlike ordinary keys that are easy to deform and break, our keys are stronger and more durable.
• Six high-quality rubber O-ring can prevent rattling noise caused by shaking during towing.
The hitch lock is easy to operate:
1. Push the pin on the lock head to clock without using key.
2. After click, please pull the lock head to ensure it is working.
3. Turn the key and the pin will pop up automatically.
4. Turn off the pin from the receiver hole, then done.
Our trailer hitch lock package includes 1 * lock head 360°rotating, 1 * 5/8" diameter lock pin, 2 * tubular keys and 6 * rubber O-rings. It is effectively prevents lock picking to protect your trailer, truck, boat and towing equipment.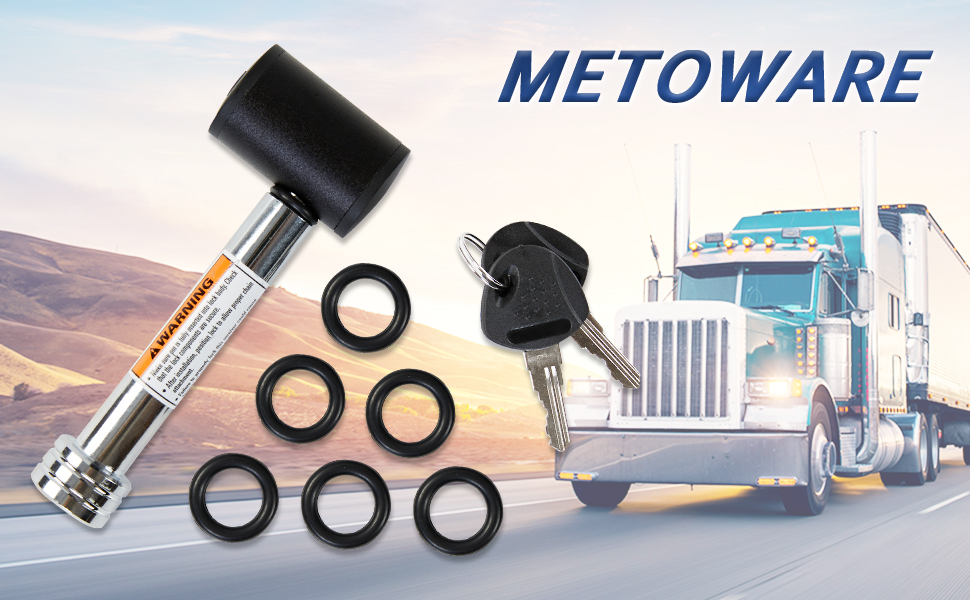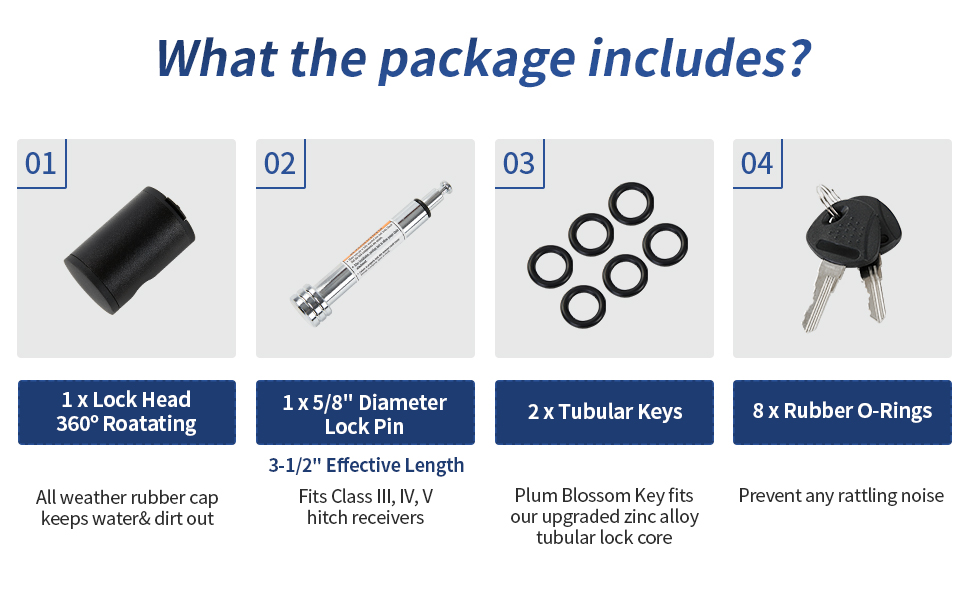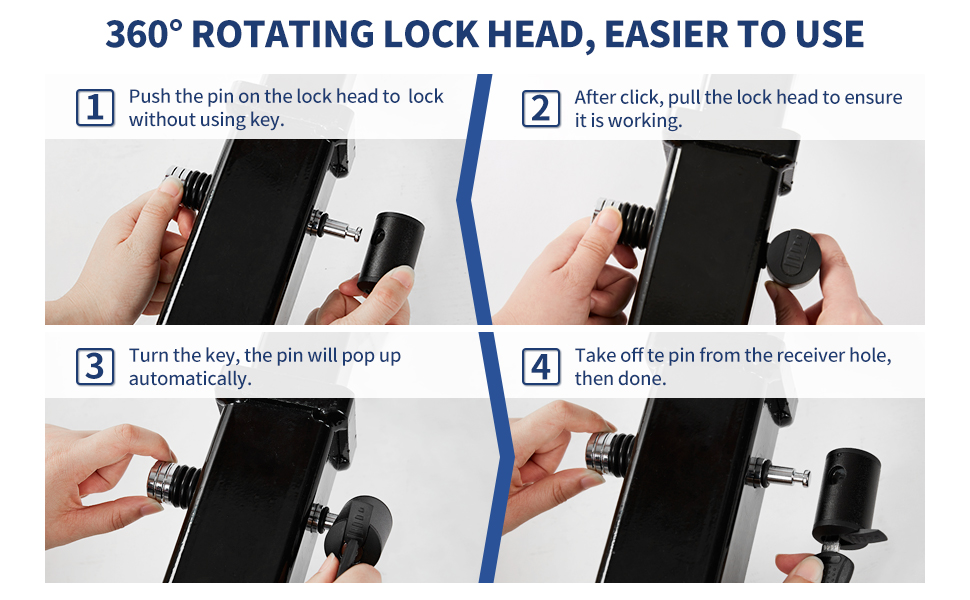 | | |
| --- | --- |
| Manufacturer | ‎METOWARE |
| Brand | ‎METOWARE |
| Item Weight | ‎11.2 ounces |
| Package Dimensions | ‎5.6 x 2.2 x 1.8 inches |
| Manufacturer Part Number | ‎47279 |
---
---